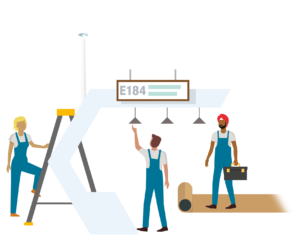 We know sustainability is increasingly important to our attendees and exhibitors, as well as to our market as a whole. Running Content Marketing World gives us lots of opportunities to improve our impacts environmentally, socially and economically in our host cities. We want to make our event more responsible and play a role in helping our markets improve its own sustainability through connecting people with the networks and knowledge they want to help solve the big challenges in our sector.
OUR THREE AIMS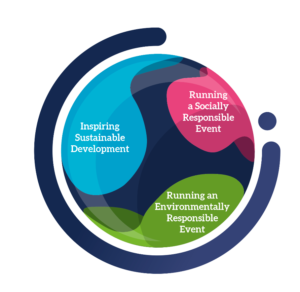 We believe a sustainable event focuses on three key aims:
Inspiring Sustainable Development
Running an Environmentally Responsible Event
Running a Socially Responsible Event
Here are some examples of how we are implementing sustainability at CMWorld:
Cleveland Convention Center is a LEED Gold Facility, earning its certification for green design and construction in the areas of energy use, lighting, water, and material use as well as incorporating a variety of other sustainable strategies. More info about the Cleveland Convention Center's Reduce, Reuse & Recycle Program can be found in a recent press release and on their website.
Conference guides are being printed on 100% recycled paper and are being abbreviated to use less paper. We encourage attendees to use our digital mobile app for all event info!
We are also asking our sponsors for help with our sustainability goals by offering them the option to provide digital collateral in our mobile event app instead of using printed material in our bags and in sessions.
We've reduced total printed signage (print signage being replaced with digital signage wherever possible). New for 2019 we are also replacing our printed Content Marketing Awards printed display with all digital signage.
We've replaced foam core signage with signage made from 100% recycled cardboard substrate.
Our carpeting is made from recycled materials, reducing our carbon footprint and the demand for virgin materials.
Speaker gifts are made from recycled and "upcycled" materials.
We've eliminated paper speaker evaluations in favor of electronic scoring in our mobile app.
With the help of our venue and caterers, all catered food is locally grown and sourced.
We've eliminated plastic water bottles in meeting rooms and our networking events in favor of using reusable water bottles. New for 2019 we will also be using water boxes in our box lunches, replacing plastic water bottles. Our lunch containers are also made from 100% post-consumer recyclable materials and are compostable.
OUR ONGOING PARTNERSHIP WITH THE ORANGE EFFECT FOUNDATION
Last but not least, we are proud to continue The Orange Effect Foundation as Content Marketing Institute's official charity partner. OEF mission is empowering children and young adults with speech disorders to effectively communicate through therapy, education, research and technology resources. Our team supports OEF in myriad ways, including volunteering our time and resources along with fundraising throughout the year.
To read more about their work, visit their website.
SUSTAINABILITY IN INFORMA MARKETS
Content Marketing World is part of Informa Markets and the Informa Group. Sustainability at Informa focuses on the long term impacts we have on customers, colleagues, the communities we work in and the environment.
Many of our stakeholders are clearly telling us that sustainability (social, economic and environmental) is something that is no longer a nice to have but a necessary part of any event. We want to make sure we're meeting those expectations and we believe that being sustainable is the right thing to do.
We also recognize that it's not just about the way we produce our events and products but recognizing that we have a role to play in providing a space to work in partnership together with our markets to inspire the sustainable development of the industries we serve. This is an ongoing process for us and we're looking for ideas of how we can improve.
More information about our work so far can be found on the www.informa.com/sustainability including our latest sustainability reports.
CONTACT AND SHARE YOUR STORY
Would you like to work with us on the sustainability of our event? Would you like to share your own story and efforts? Got an idea? Contact the event team or reach out to Informa's sustainability team for more information: [email protected]