We know sustainability is important to our attendees and exhibitors, as well as to our market as a whole. Not only are we committed to running our event in an environmentally and socially responsible way, we also want to go further and inspire the sustainable development of the industry we serve. By connecting people with relevant networks and knowledge at our event, we're helping them to solve some of the biggest challenges facing the sector to ensure long-term, sustainable growth.
OUR THREE AIMS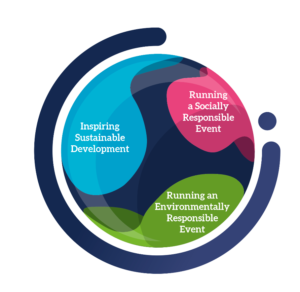 We believe a sustainable event focuses on three key aims:
Inspiring Sustainable Development
Running an Environmentally Responsible Event
Running a Socially Responsible Event
We focus on:
Using our content and partnerships to help support the sustainability of the market our event serves
Inspiring our suppliers, exhibitors and other stakeholders to deliver a sustainable event
Reducing our event's carbon emissions
Considering the sustainability credentials of the items sourced for the event
Doing business safely and ethically
Ensuring our event is a welcoming environment for all and to encourage diverse and inclusive voices and topics.
Considering wellbeing and accessibility
Creating a positive impact on our host cities
EASY WAYS YOU CAN BE MORE SUSTAINABLE AT CMWORLD
Here are our top tips on how you can help make this event even more sustainable.
Reduce the brightness of your screen and remember to hibernate your computer when not in use to help reduce your energy usage.
Make sure you take a break at regular intervals throughout the day. Getting away from your screen for a minute to stretch your legs, staying hydrated and having a healthy snack will improve your ability to get the most out of the event.
Be aware of our code of conduct and help us ensure a welcoming atmosphere of respect for all.
When talking to exhibiting companies remember to ask them about the sustainability credentials of their business and their products.
Most event resources have been designed to be easily viewed online or via a mobile device so please avoid printing where possible to help reduce paper waste.
Consider eating a healthy meat-free lunch during the event, it's good for you and for the planet.
OUR ONGOING PARTNERSHIP WITH THE ORANGE EFFECT FOUNDATION
Last but not least, we are proud to continue The Orange Effect Foundation as Content Marketing Institute's official charity partner. OEF mission is empowering children and young adults with speech disorders to effectively communicate through therapy, education, research and technology resources. Our team supports OEF in myriad ways, including volunteering our time and resources along with fundraising throughout the year.
To read more about their work, visit their website.
SUSTAINABILITY IN INFORMA
Our event is part of Informa Connect and the Informa Group. Sustainability at Informa focuses on the long term impacts we have on customers, colleagues, the communities we work in and the environment.
Many of our stakeholders are clearly telling us that sustainability (social, economic and environmental) is something that is no longer a nice to have but a necessary part of any event. We want to make sure we're meeting those expectations and we believe that being sustainable is the right thing to do.
We also recognise that it's not just about the way we produce our events and products but recognizing that we have a role to play in providing a space to work in partnership together with our markets to inspire the sustainable development of the industries we serve. This is an ongoing process for us and we're looking for ideas of how we can improve.
More information about our work so far can be found on the www.informa.com/sustainability including our latest sustainability reports.
CONTACT AND SHARE YOUR STORY
Would you like to work with us on the sustainability of our event? Would you like to share your own story and efforts? Got an idea? Contact the event team or reach out to Informa's sustainability team for more information: [email protected]