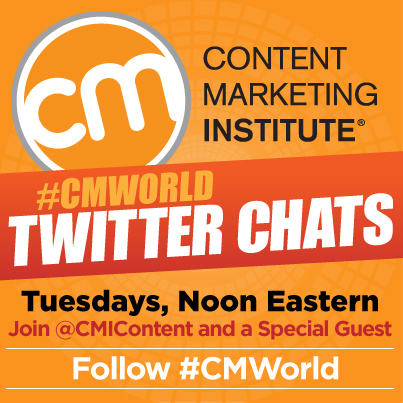 Want to discuss the latest trends in content marketing and get advice from some of the experts? Each week join CMI (@CMIContent) and a guest as we discuss key content marketing topics. Simply follow #cmworld on twitter to join the conversation. All chats are on Tuesdays from 12 PM – 1 PM ET:
10/09/2018: Social Media ROI with Monina Wagner (@MoninaW)
10/16/2018: Incorporating UCG in Your Content Plans with Jacquie Chakirelis (@JacquieChak)
10/23/2018: Latest Research in Content Marketing with Lisa Murton Beets (@LisaBeets)
Tweet us at @CMIContent for speaker suggestions or topic ideas for upcoming chats. We would love to know what interests you and who inspires you!
Archive of past chats: