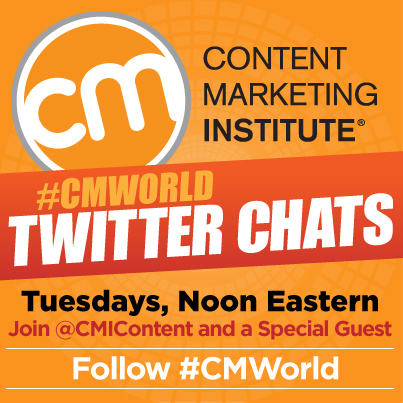 Want to discuss the latest trends in content marketing and get advice from some of the experts? Each week join CMI (@CMIContent) and a guest as we discuss key content marketing topics. Simply follow #cmworld on twitter to join the conversation. All chats are on Tuesdays from 12 PM – 1 PM ET:
02/27/2018: The Science of Storytelling with Joe Lazauskas (@JoeLazauskas)
03/06/2018: Text message marketing with Ardath Albee (@ardath421)
03/13/2018: The evolution of influencer marketing with Lee Odden (@leeodden)
03/20/2018: ICC – NO CHAT
03/27/2018: Earned media and its role in content marketing with Michelle Garrett (@PRisUS)
04/03/2018:  Content marketing for small business with Tabitha Naylor (@tabithanaylor)
Tweet us at @CMIContent for speaker suggestions or topic ideas for upcoming chats. We would love to know what interests you and who inspires you!
Archive of past chats: