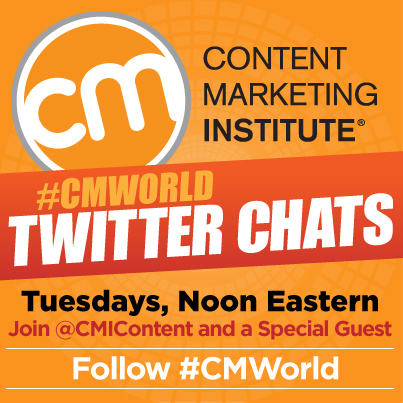 Want to discuss the latest trends in content marketing and get advice from some of the experts? Each week join CMI (@CMIContent) and a guest as we discuss key content marketing topics. Simply follow #cmworld on twitter to join the conversation. All chats are on Tuesdays from 12 PM – 1 PM ET:
02/26/2019: Embracing Transparency in Content with the #CMWorld Community (@CMIContent)
03/05/2019:  The Gig Economy with Nicky Pasquier (@virtuosoassist)
03/12/2019: How to Succeed as a New Leader with Gene Petrov (@GenePetrovLMC)
03/19/2019: Tips for Delivering Effective Presentations with Andrea Larick (@A_Larick)
03/26/2019: Chat TBD
04/02/2019: Using Awards Programs to Help Client Visibility with Krissy Leskovec (@krissyleskovec)
4/16/2019: Leveraging Analytics Data to Improve Your Content with Tod Cordill (@todcordill)
Tweet us at @CMIContent for speaker suggestions or topic ideas for upcoming chats. We would love to know what interests you and who inspires you!
Archive of past chats: