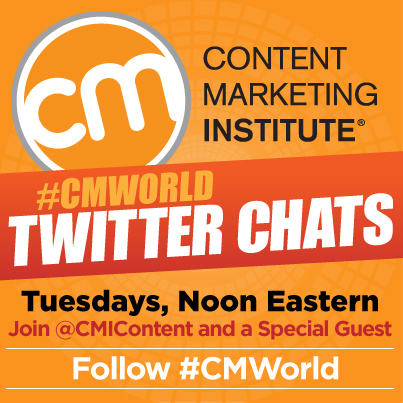 Want to discuss the latest trends in content marketing and get advice from some of the experts? Each week join CMI (@CMIContent) and a guest as we discuss key content marketing topics. Simply follow #cmworld on twitter to join the conversation. All chats are on Tuesdays from 12 PM – 1 PM ET:
07/27/21:  AI Use Cases for Content Marketers with Paul Roetzer (@paulroetzer)
08/03/21: Chat TBD
08/10/21:  Chat TBD
Tweet us at @CMIContent for speaker suggestions or topic ideas for upcoming chats. We would love to know what interests you and who inspires you!
Recent Twitter Chats
Content Creation

Distribution and Promotion

Editorial Process and Teams

Video

General Success Tips

Social Media

All Chats

Archive of past chats: