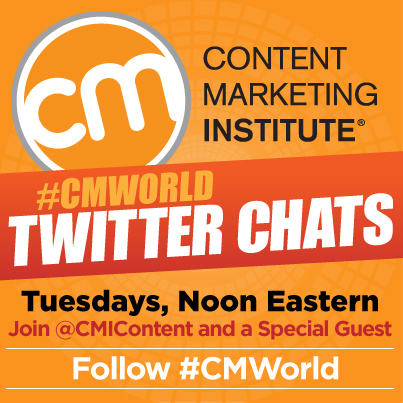 Want to discuss the latest trends in content marketing and get advice from some of the experts? Each week join CMI (@CMIContent) and a guest as we discuss key content marketing topics. Simply follow #cmworld on twitter to join the conversation. All chats are on Tuesdays from 12 PM – 1 PM ET:
08/14/2018:   Finding your big ideas with Improv with Kathy Klotz-Guest (@kathyklotzguest)
08/21/2018: Account based marketing with Carmen Hill (@carmenhill)
08/28/2018: Getting the most out of in-person events with Cathy McPhillips (@cmcphillips) & Mike Myers (@mikemyers614)
09/04/2018: No Chat Today – follow the #CMWorld hashtag all week while we are at Content Marketing World!
09/11/2018: CMWorld Post-Event Chat with Kim Moutsos and Stephanie Stahl (@kmoutsos, @editorstahl)
09/18/2018: TBD
09/25/2018: Professional Development with Margaret Magnarelli (@mmagnarelli)
10/02/2018: Productivity Hacks with Trello (@trello)
Tweet us at @CMIContent for speaker suggestions or topic ideas for upcoming chats. We would love to know what interests you and who inspires you!
Archive of past chats: