CMWorld Events
Monday, September 5, 2016
Meet the CMI Team
6:30 pm – 8:30 pm
Hilton Cleveland Downtown
Getting in early? If you're in town Monday evening, September 5th, and looking for some fun, come see the CMI staff.  Check back soon for more info.
Tuesday, September 6, 2016
Opening Night Reception
7:00 pm – 10:00 pm
Location to be announced soon
Sponsored by:

Wednesday, September 7, 2016
Cocktails and Networking
5:45 pm – 7:00 pm
CMWorld Expo Hall
Sponsored by: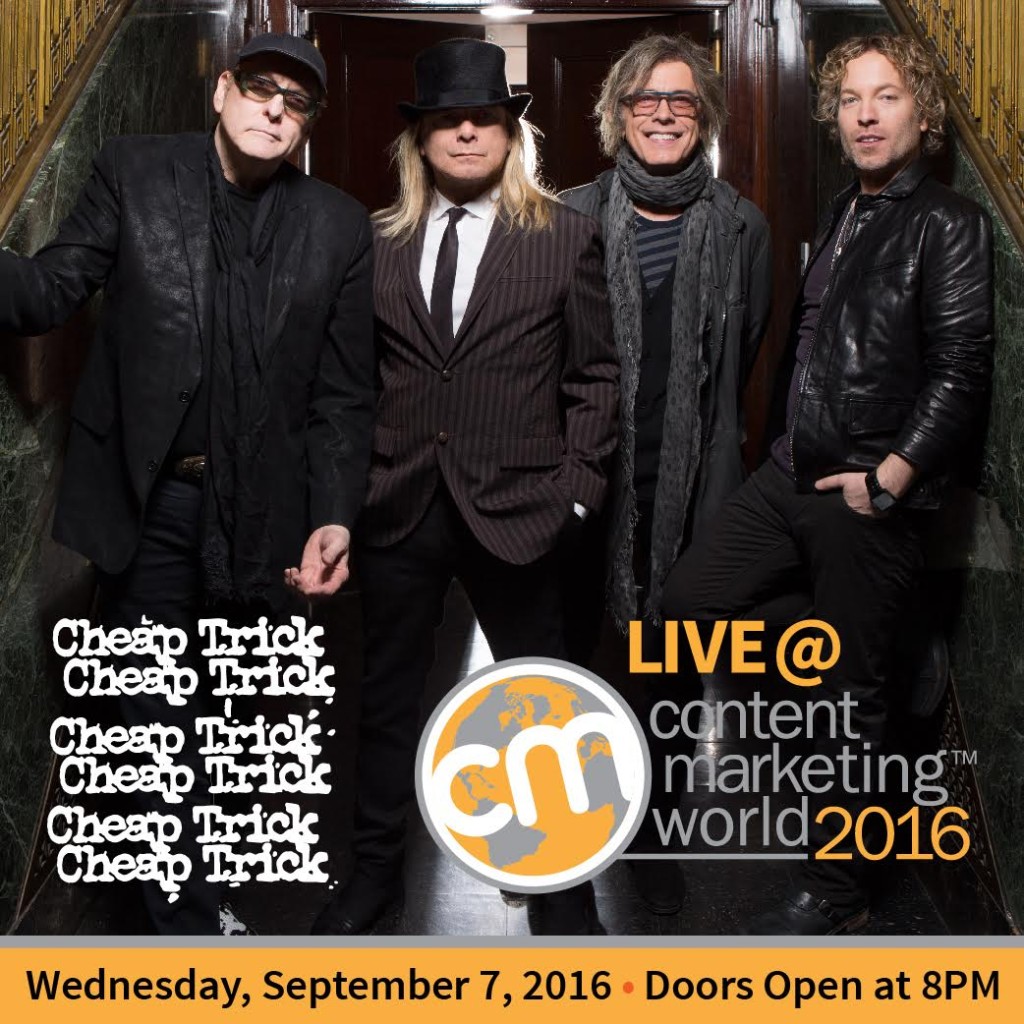 #CMWorld Concert – Cheap Trick
Doors open: 8:00 pm
Concert begins: 9:00 pm
The Music Hall
***The Cheap Trick Concert is only open to #CMWorld attendees.
#CMWorld Afterparty
10:30 pm – 12:30 am
Location to be announced soon
Sponsored by:

Thursday, September 8, 2016
Evening on Your Own
The #CMWorld team is arranging discounts on drinks and dining at area restaurant. Check back for a listing as #CMWorld approaches.
Bring your badge or welcome letter to the restaurants to qualify.
---
And as always please check out our CMWorld Twitter chats!
#CMWorld Twitter Chats
Want to discuss the latest trends in content marketing and get advice from some of the experts? Each week join CMI (@CMIContent) and a guest as we discuss key content marketing topics.
Simply follow #cmworld on twitter to join the conversation. See the full schedule and more info.