CMWorld Events
Monday, September 5, 2016
Meet the CMI Team
6:30 pm – 8:30 pm
Eliot's Bar at Hilton Cleveland Downtown
If you arrive early and have some free time Monday evening, come say hello to the CMI team. We'll be hanging out at Eliot's Bar at the Hilton Downtown Cleveland around 6:30 pm.
Tuesday, September 6, 2016
Cleveland Beats and Eats
11:00 am – 2:00 pm
Mall C (right outside from the Convention Center Lakeside entrance)
Cleveland Beats & Eats is an outdoor, lunchtime celebration of the diversity of food, music, art and culture that makes Cleveland and this region unique! Stop by to grab lunch during your CMWorld workshop break!
Food Trucks:
Fired Up
B&M
Fawaky Burst
The Gorilla
Krust Mobile Pizzeria
The Motown Jazz Band will be performing. Hosted by Cleveland International Airport.
Opening Night Reception
7:00 pm – 10:00 pm
FWD Day + Nightclub
We kick off Content Marketing World 2016 at FWD, a pool club on the Cuyahoga River, in the newly constructed Flats East Bank. FWD is an open-air venue with an industrial-chic vibe. Enjoy the beautiful view of the river and Lake Erie, enjoy some cocktails and appetizers, and visit with our amazing content marketing community.
Sponsored by:

Wednesday, September 7, 2016
Cocktails and Networking
5:45 pm – 7:00 pm
CMWorld Expo Hall
Sponsored by: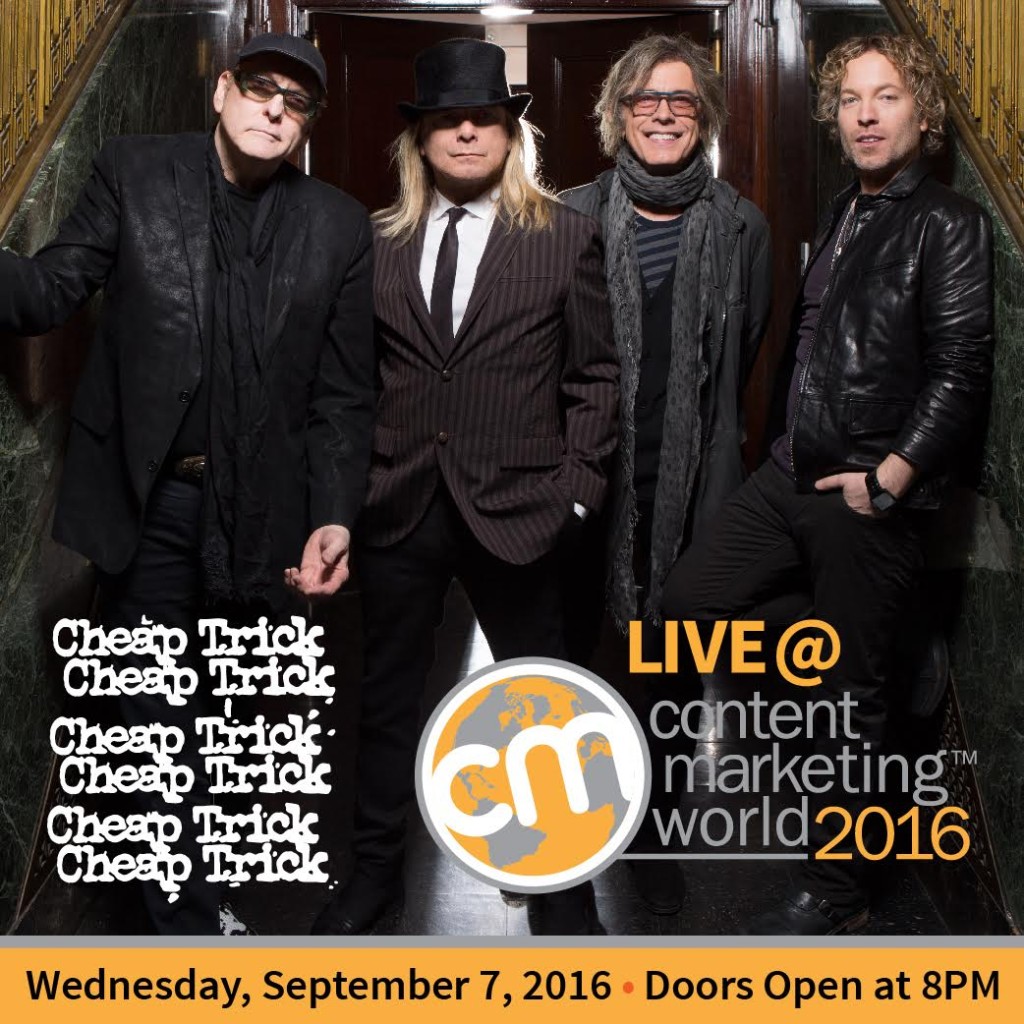 #CMWorld Concert – Cheap Trick
Doors open: 8:00 pm
Concert begins: 9:00 pm
The Music Hall
***The Cheap Trick Concert is only open to #CMWorld attendees.  Please note cameras are not permitted. ***
#CMWorld Afterparty
10:30 pm – 12:30 am
Hilton Cleveland Downtown
Join ion interactive for an afterparty immediately following the Cheap Trick concert. The #CMWorld Afterparty is at the Hilton Downtown Cleveland, connected to the convention center, within easy walking distance from Cleveland Music Hall, so stop by for a cold one. It's going to be great fun!
Sponsored by:

Thursday, September 8, 2016
Evening on Your Own
The #CMWorld team has arranged some discounts on food and drink at area restaurants for Thursday, September 8th.  Please be sure to bring your #CMWorld badge or hotel welcome letter to the restaurants to qualify.
House of Blues – 10% off restaurant or company store (Alcohol, tax and gratuity not included. Offer Excludes CDs and artwork)
Pickwick and Frolic – 10% off Food portion of bill (Alcohol not included)
Flannery's Pub – 20% off Food portion of bill (Alcohol not included)
Society – 20% off of bill
Corner Alley – 20% off Food portion of bill (Alcohol not included)
Zocalo – 20% off Food portion of bill (Alcohol not included)
Wonder Bar Cleveland – 10% off food bill, dine in only (Alcohol not included)
The Chocolate Bar – Purchase 2 sandwiches or entrees and receive a complimentary "Dip Your Berries" dessert
Destination Cleveland partners are offering specials to CMWorld convention attendees to make your experience in Cleveland all the more enjoyable. To participate, simply show your conference badge to any of our participating partners listed here to receive their exclusive offer anytime during your stay.
---
And as always please check out our CMWorld Twitter chats!
#CMWorld Twitter Chats
Want to discuss the latest trends in content marketing and get advice from some of the experts? Each week join CMI (@CMIContent) and a guest as we discuss key content marketing topics.
Simply follow #cmworld on twitter to join the conversation. See the full schedule and more info.